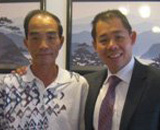 Dear Joseph,
We recently sold our home in Doncaster, we sincerely express our gratitude for the outstanding work your team did for my wife and I.
We are really convinced about Hudson Bond's selling strategy and approach to marketing, which have been shown to be superior compared with many other real estates.
Special thanks go to Mr. Joseph Yap and Ms. Kathryn Lau. We are happy for having them as our salespersons. They were professional, sincere, supportive, dedicated and effective. We are sure you're glad they are apart of your effective team as well.
Regards,
Charles & Jenny Li