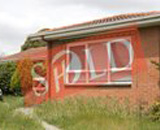 To whom it may concern,
I have recently sold a property in Mitcham through Stuart Cooper and the crew at Hudson Bond.
Not only did I know exactly what costs I was up for before I started, but the property was sold as quick as a flash. In fact 3 hours after I handed in the section 32 certificate. Either I'm slack or they're fast. As a nice bonus, it actually sold for more than the asking price. Well done Stuart.
Con Drudy