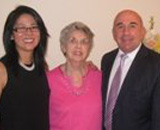 I chose Hudson Bond because I felt your representative Mr Danny Demir was honest, sincere and compassionate.
My family and I have no hesitation in promoting Hudson Bond as first class Real Estate Agents.
We found the attention of Danny Demir and Kathryn Lau was exceptional and carried out with dignity, honesty and care.
My family appreciated being informed of every stage of this traumatic move and have congratulated me on my choice of Hudson Bond!
Thank you, one and all, with special thanks to Danny and Kathryn.
Lena White
9842 7490