Melbourne, the multiple winner of the world's 'Most Liveable City' has been in an unprecedented extended lockdown, for longer and with more draconian measures than any other city in the World.
What does this mean for property and what lies ahead for the rest of 2020 and next year 2021?
Having been hit with a further lockdown, you may be wondering if the doomsday predictions of up to 30% falls in property prices made at the start of the pandemic may come true.
The short answer. I think not!
Despite Australia being in a recession with unemployment rising and many businesses struggling, declines in property values have been mild.
There are several indicators that the market is going to bounce back once we are out of lockdown.
1) The market has remained quite resilient throughout the pandemic. We are still making sales during the lockdown and achieving some great results for our vendors.
2) When we came out of the first lockdown, the pent-up demand from buyers was high. We did not have enough properties to fulfill the demand from buyers, with some properties getting multiple offers and selling above the asking price. This does not suggest an imminent housing market collapse, does it?
3) Another positive indicator is observing what happened in other countries that came out of lockdown, their property prices held up. Also, all we need to do is look to our State neighbours in NSW and you will find that property prices in Sydney have remained remarkably resilient.
4)  The pandemic has not affected everyone equally. There are a lot of businesses and many people suffering from the extended lockdown conditions but there are also some who have not been financially affected at all, in fact some businesses have thrived and expanded during the pandemic.
While house prices have softened during the pandemic by 5% to 10%, the median house price throughout most of Australia is higher than it was 12 months ago.
The most likely outlook for property is for prices to hold up because of pent-up demand and short supply. Surprisingly, consumer confidence is not all lost and will gradually return.
According to the Knight Frank Global House Price Index, the Australian housing market is ranked in the top 20 globally for growth. While annual price growth has fallen slightly, growth is still positive. The positive outlook for Australia is also shared by the International Monetary Fund (IMF) as well as the OECD and the RBA.
Population growth has always been an important driver of price growth in the housing market. With the Australian borders being closed, population growth is down but because of strong buyer demand combined with the shortage in the supply of properties for sale, prices should hold.
There are too many vested interests in our property market to allow them to collapse. That is why there are quite a few measures put in place by Federal and State governments together with the banks who are providing a lifeline with mortgage relief to ensure the property market does not fall.
The most likely outlook for property by the end of 2020 is small price falls in some areas and little to no falls in others. The housing market is not one market but a collection of many with some areas doing better than others.
Furthermore, with interest rates being so low, mortgage repayments are lower than what it would cost to pay rent. We are seeing many tenants now opting to buy their own home and pay off their own mortgage rather than that of their landlords.
Australian residential property has historically fared well against negative economic downturns, even at times when our unemployment was high. Have a look at the graph. The graph shows that in the past, negative economic shocks have not necessarily led to excessive declines in housing prices.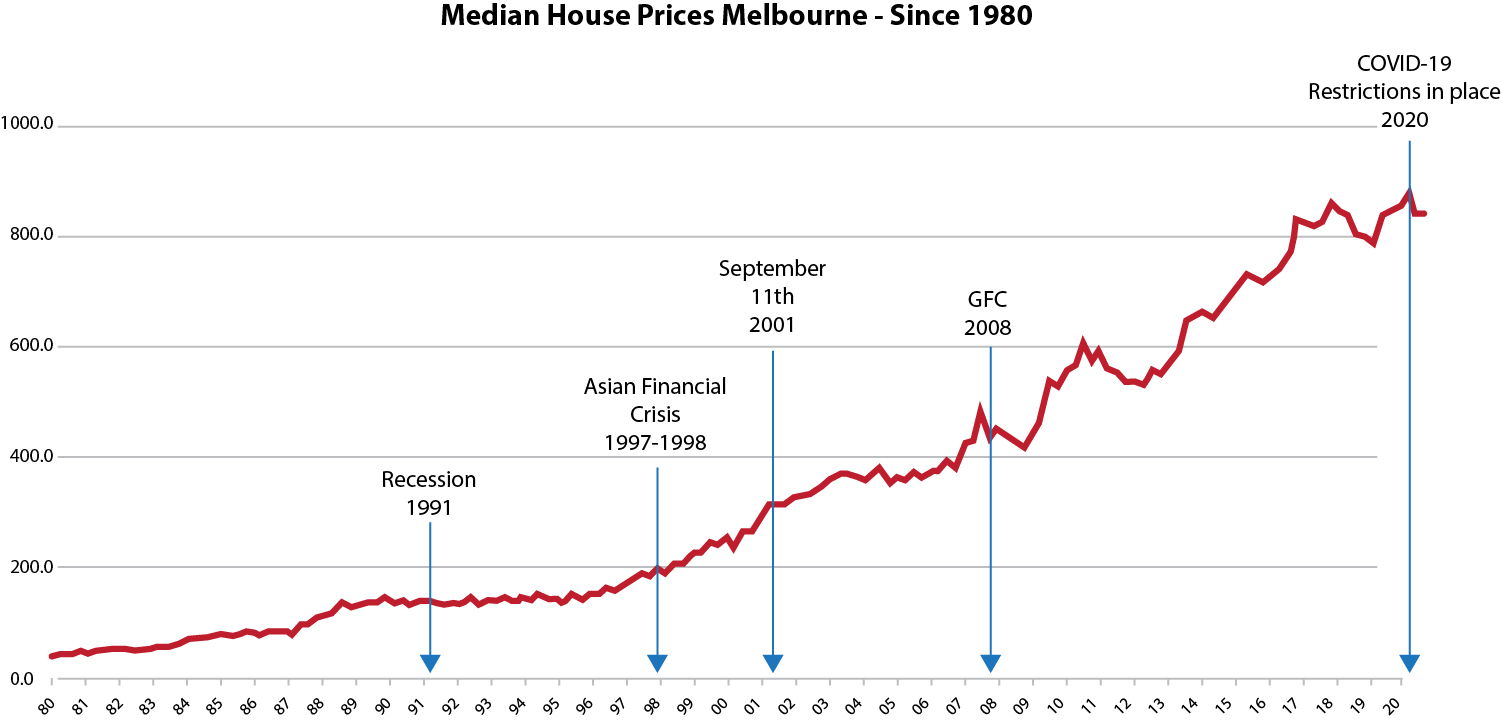 Except for some modest increase in prices in some areas, I expect the market to remain relatively stable until late 2021.
Photo by Matt Seymour on Unsplash